I always miss these great food events like Sugar High Friday, Paper Chef, and Is My Blog Burning. I either forget to watch for them, or forget to participate. So I was determined to enter
SHF#12
. One problem - I don't like custard. At all. But! There is someone who does. Someone who every Friday asks me to keep an eye out for Flapper Pie if I happen to go to a farmers market.
It turns out that Flapper Pie is made with custard. And the lover of said pie? My boss. What better way to stay on his good side than to make his very favorite pie?
Flapper pie is basically a custard pie topped with meringue. I tried to do some research and come up with some interesting facts, but all I really found out is that this pie dates back to the 1800's. It originated in Eastern Canada, but it was westerners that gave it the name. Why call it Flapper Pie? Who knows?
Not only was this my first time making custard from scratch, it was also my first time making meringue too! Wooooo!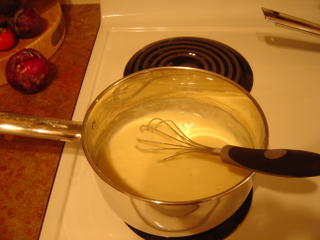 Finished custard cooling on the stove. Ignore the yellowness. I can't work my camera at the moment. I had a couple of scary moments with the custard; trying to simultaneously whisk, add the eggs and keep the temperature low was a little tricky. But it seemed to be fine.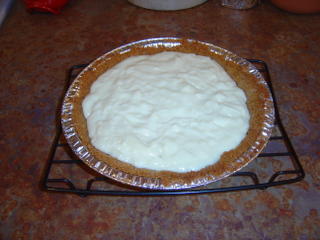 Custard in graham crumb crust. The crust smelled very nice from the addition of the cinnamon.
The pie, topped with meringue and crumbs and baked. If you look really hard you can see the meringue is browned in spots.
The pie was very easy to make. I was pleasantly surprised; I had always assumed that custards were tricky and finicky. But it really wasn't. It had a nice flavor to it too. I think I may have to re-think my anti-custard position.
And the verdict from my boss?
He LOVED it. He said he hadn't had a Flapper pie in years and it was just as good as he remembered. Isn't he a nice boss? Well, maybe not so much. He didn't share! With any of us! He took the whole pie home to eat himself. Who does that?
Flapper Pie
recipe by Floramaria Deter
Crust:
1 1/4 cups graham wafer crumbs
1/4 cup sugar
1/2 tsp cinnamon
1/4 cup butter, melted
Filling:
1/4 cup sugar
3 Tb cornstarch
2 cups milk
2 egg yolks, lightly beaten
1 tsp vanilla
Meringue:
2 egg whites
1/4 tsp cream of tartar
2 Tb sugar
Combine all ingredients for crust and mix. Set 1/4 cup aside. Press the rest into the bottom and sides of a 9" pie plate. Bake at 375' for 8 minutes and cool.**SEE NOTE
For filling: Combine the sugar and cornstarch in a pot, add the milk. Heat over medium heat, stirring often, until the mixture comes to a boil. Mix a ladleful into the egg yolks, and then add the yolks to the pot, whisking. Cook for 2 minutes until thickened. Add the vanilla. Set aside to cool slightly. Pour into crust.
Meringue: Beat the egg whites and the cream of tartar until soft peaks form. Add the sugar and beat to stiff peaks. Spread over the filling, sealing around the edges. Top with reserved crumbs. Bake in a 400' oven for 5-9 minutes until top is lightly browned in spots.
Cool to room temperature.
**NOTE: I think this recipe is way too heavy on the crust. I only used enough of the crumb mixture to cover the sides and bottom and discarded the rest.