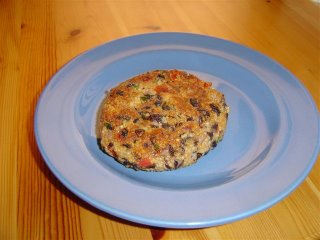 Here's a link I've been meaning to share with you for a couple of months. I discovered this blog
Vegan Taste Test
at the end of August. Shortly after that Brook went on hiatus which is really too bad! She's got some great stuff on there.
Her last recipe post is for
Black Bean Couscous Cakes.
These are absolutely delicious! You should all go check these out, you'll love them.
I made them again on the weekend, but when I went to fry the patties I realized I had forgot to add the binder (corn flakes) and the patties started to fall apart when I tried to flip them. So I did what Brook did when that happened to her; I just broke up the patties and fried it like hash. I think I liked them even better that way. I sprinkled in a bit of cumin and topped each serving with some sour cream mixed with lime juice and pepper. (I also used kidney beans instead of black beans; they are both equally yummy.)
It's hard to make something like this
look
good, but it tastes good.
Brook, I hope you come back soon. In the meantime, I think I'll have another couscous cake.
Edited to add - The next night I mixed the leftover hash with salsa, heated it up and

voila

! Taco filling was born. Oh, couscous and beans, is there nothing you can't do?